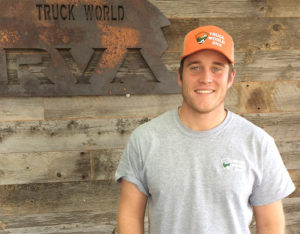 Truck World RVA had it's grand opening BBQ party on November 19th, 2016. We knew from the start we wanted to offer something different and unique. We had a local Goochland resident bring his tow behind smoker and cater barbeque pork and chicken, and advertised with Samy G from 96.5 for our free BBQ tailgate party! You can check out some pictures of the event under the events section of our website.
Getting the business up and running truly was a family effort. Between my wife and my mom picking out the furniture (and putting it together, IKEA furniture!), to having friends from as far as California coming in support of the grand opening, we are so grateful for all the help and support we have received!
Curtis started his landscape business when he was sixteen, out of the back of his Volvo. I consider myself incredibly fortunate to have grown up during the transformation of his business from a one man, one truck operation to the business that it is today. I watched my dad put in the hard work, the hands-on get dirty work, the ten hours a day six days a week work. I can't express how proud I am of who he is, and how much I wanted to be just like him growing up.
I started in the car business when I was eighteen, as something to make some money so I could afford to get married while my wife was in college. I sold cars at CARMAX for two years, and after Maddie graduated, we moved to California. I became a buyer and started sourcing inventory, and that's where I really started to enjoy the analytical aspect of the industry.
My dad and I had talked for years of one day starting a business together – but we never knew what that business would be! When Maddie became pregnant with our first child, we knew it was time to move back home close to family. The timing worked out perfectly with starting Truck World RVA in Richmond.
Being a contractor, Curtis had plenty of experience with buying trucks for his business. While he never worked a day in his life in the automotive industry, he was a frequent consumer. His perspective was crucial in developing our business model – he knew what he disliked about the car buying experience, and had a vision for what Truck World would be. No pressure, insanely simple and quick sales process, and real customer service. No salesmen, no finance managers, just a true customer-service focused family operation.
Since my CARMAX days, I had gone on to work for other dealerships. I am thankful for the experience and the insights I gained by seeing different business models in action. CARMAX was transparent and streamlined, but too big to ever be personal. Small dealerships are personal, but in general are less transparent and are relatively hit or miss in terms of quality.
Out of Curtis' experience as a consumer, and my experience as an industry veteran, Truck World RVA was born!
Richmond Virginia is home to both Curtis and myself. In fact, we live about a mile away from each other. We are passionate about Richmond, and local businesses. We partner with a local family-owned mechanic shop, detailer, and banks to ensure that Richmond business stays local and personal!